Knee Injuries: The Ruptured Anterior Cruciate Ligament (ACL) in Dogs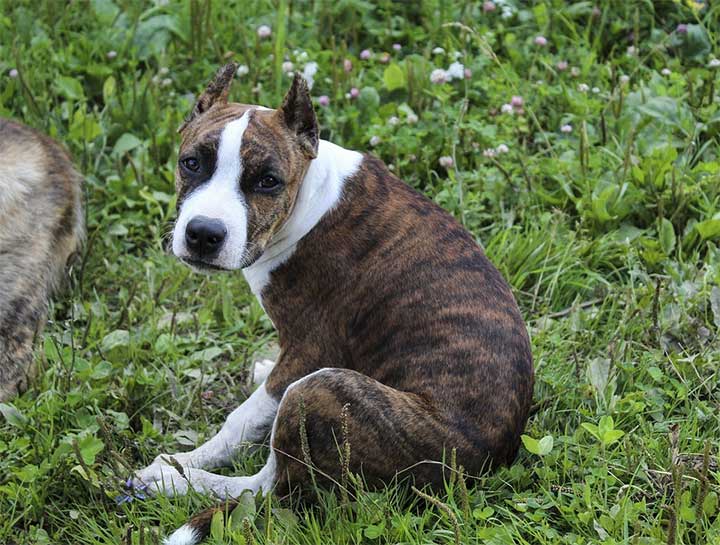 July 20, 2020
Unfortunately, the Doctors at Valley Animal Hospital routinely diagnose dogs with a "ruptured ACL." This is a common knee injury in young/athletic or older/overweight dogs. A dog's knee is designed a lot like a human's knee-- with two ligaments inside the joint that cross (the ACL and the PCL) to stabilize the lower half of the leg.
"Dogs are very good are hiding pain and in many cases, the only sign of "pain" that you'll see is that the dog is limping."

Whether the cruciate ligament partially tears or completely ruptures, this causes a wobble in the lower half of the leg every time the dog is bearing weight on the limb. (A reminder that dogs only have "knees" in their back legs, so this injury can only happen on a rear leg. The front leg is designed like a human's arm-- with an elbow joint and the bones + ligaments you'd expect in a person.)
Once the ACL ligament is torn or ruptured, the knee joint is unstable and the body attempts to 'heal' the joint by producing bone spurs that limit the wobble in the knee. It's a great idea that has very bad consequences. Anyone who has ever had a bone spur knows how painful they can become. Dogs are very good are hiding pain and in many cases, the only sign of "pain" that you'll see is that the dog is limping. In other words, if your dog isn't using his leg like he used to (i.e. walking with it) then it means it hurts to walk normally!
Most dogs that have ruptured their ACL will be very painful for the first few days and then will seem a little more comfortable after that. This is just like any of us with an injury-- drop a brick on your toe and it hurts a bunch at first and then settles down after that. Except that a ruptured ligament will not heal on its own, and the longer the knee is unstable, the more likely it is that your pet will suffer from muscle atrophy and bone spurs.
Dogs with a ruptured ACL will usually "toe touch", so the leg isn't held all the way up, but instead the foot is just tapping the ground. We may see these dogs try to use the leg when walking on good footing-- such as carpeting or the grass-- but will quickly pull the leg up as soon as they get on slick footing such as linoleum or hard wood floors.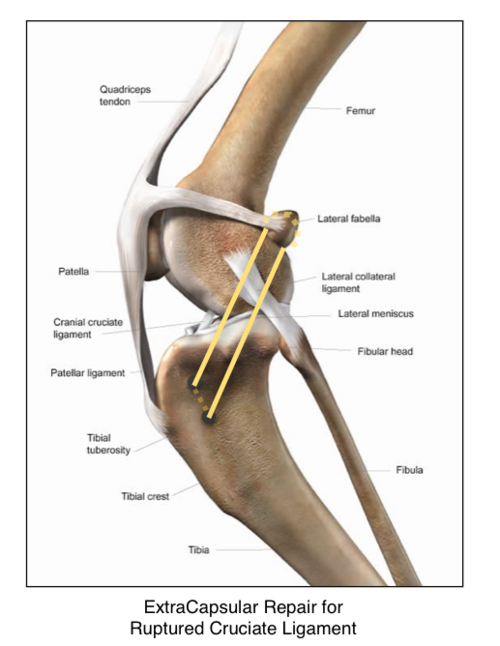 Though you may find splints or other gizmos on the internet to "repair" a ruptured ACL, they really don't work that well. The way to repair this problem and restore function is through surgery. There are several surgeries for this problem and they all have advantages and disadvantages-- just like every other choice we have to make in life!
At Valley Animal Hospital of Merced, the Doctors routinely diagnose this injury and perform surgery to stabilize the knee. We primarily use the Extracapsular Technique to stabilize a knee with a ruptured ACL. With the Extracapsular Technique, two false ligaments are implanted at an angle to 'replace' the torn ligament.
We have done hundreds of these surgeries over the years with excellent success rates and return to function.
Diagnosis of your pet's knee problem will likely require an Exam and Sedation (to manipulate the knee without hurting your pet.) It may also require X-Rays. We've seen where some dogs rupture their right knee's ACL ligament because the left hip has a problem-- causing the dog to shift more weight onto the right knee. Understanding all of a dog's orthopedic (bone & joint) issues helps us to determine what is the best surgery and course of action for that dog.
After the dog's workup, we'll discuss the various surgeries, their costs and advantages/disadvantages of the techniques. From there, the choice is yours whether we refer you to someone who performs a different type of surgery or we use the Extracapsular technique on your pet!
The Doctors and Staff at Valley Animal Hospital of Merced hope that this information helps you to understand a little bit more about ACL injuries in dogs. We've helped hundreds of dogs by repairing the ruptured knee ligament with our affordable Extracapsular surgical technique.
Article written by Dr. Jon Klingborg, DVM